"It wasn't easy rewriting the bible...I caught a a lot of flak and did not take to it too kindly they didn't understand what we were trying to do but remember that Jesus took a lot of flak."
— 
Richard Burnish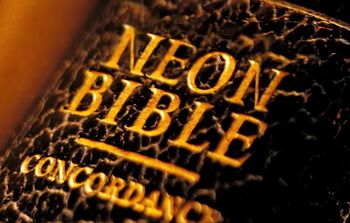 The Neon Bible is a modern rewrite of the Rick James Bible authored by Richard Burnish with the goal of catering to modern society.[1] It is the central publication of the Church of the Neon Bible.
Subjects in this bible include whether you should torrent illegal downloads or not, should you update Firefox, and how thou shall not plow thy neighbors wife. The Neon Bible is only 70 pages long. It was available for purchase on the Jesus Chatline website for $19.99 and $29.99 autographed by the author himself and for $29.95 on Amazon.
According to Richard the bible is not up to date to today standards and should be updated like your iTunes or Firefox. Contrary to what they preach, they do not use Firefox, instead they use Internet Explorer.
Commandments
Below is a list of commandments from the Neon Bible as referenced during the show.
Thou Shall Not Plow Thy Neighbour's Wife
References
Community content is available under
CC-BY-SA
unless otherwise noted.