The following products and services have been referenced by
Jesus Chatline
co-hosts
Steven Chilton
and
Richard Burnish
over the course of the show's history. The below products are provided by several organizations affiliated to the
Church of the Neon Bible
such as
Burnish Brand
.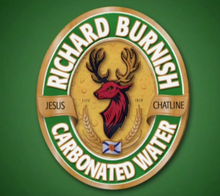 Products
Neon Bible (with 100% guarantee into heaven)

Richard Burnish Autographed Bible
Accelerated Reading Bible

Freddie Mercury AIDS cure[1] ($49.95)
Richard's Package, a collection of goods designed to help sinners restore their faith in God. Each package costs $798 dollars and comes with a free vintage bottle of Dad's Cream.[2]
Dad's Cream
Burnish Brand Eggs
JesusChatline Prayer Towel
JesusChatline Hockey Shirts
Richard Burnish Carbonated Water
Richard Burnish Blessed water
Christ Plug[3], an addon for Firefox that sorts out content by religious importance.
The Holy Roller[4], a purple jersey with a closeup of Richard's face, inspired by Stevens' favourite 'rappist,' 'Tubepac Shaker.'
Services
1 Week Intensive Anti Homosexuality training
6 Week Homo Detox Program (Attended by Ricky Martin)
Anti Homosexual Seminars
Homosexual Rehabilitaion Seminars[5]
Accelerated 3 Day Bible Camp[6]
References
Community content is available under
CC-BY-SA
unless otherwise noted.